15
Overall rating:
3.5

/5

Average
Year founded: 2001 Located: London, UK Website: imprima.com
4.2
Ease of use
Average 4.1
4.1
Customer Support
Average 3.9
4.0
Ease of setup
Average 4.2
Global rankings
1
4.4
4.5
Imprima virtual data room software:
the complete guide
Imprima is a virtual data room provider founded in 2001 in London to simplify the M&A process and other transactions like real-estate sales, IPOs, and restructuring. Now it has offices all over the world, including Germany, France, the Netherlands, the USA, and Australia.
The platform is trusted by the world's leading companies in over 160 countries. The provider's clients include Stelliant, M7 Real Estate, and HS2.
Let's examine Imprima's data room features, pricing options, as well as the pros and cons of using their software.
Software screenshots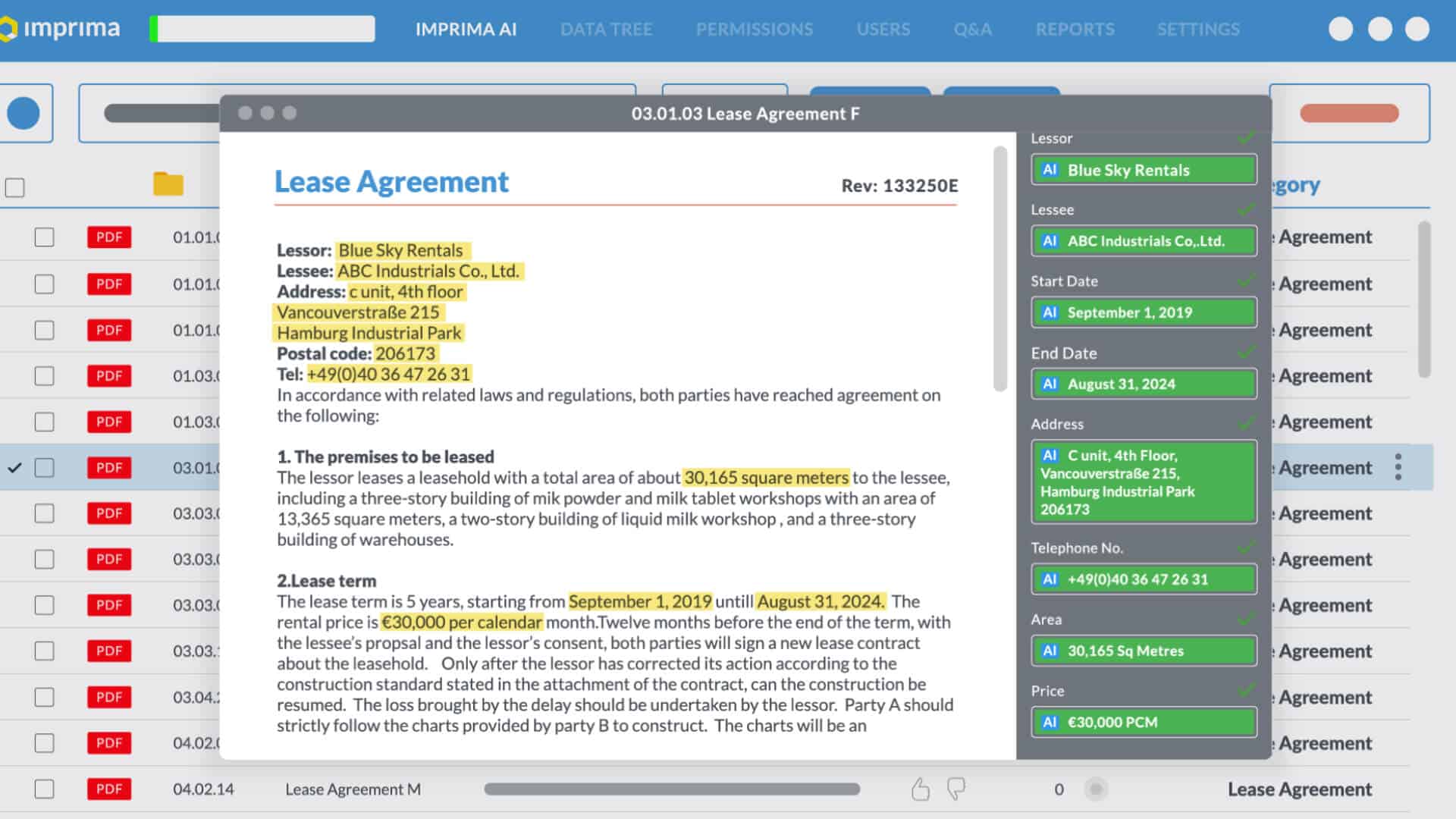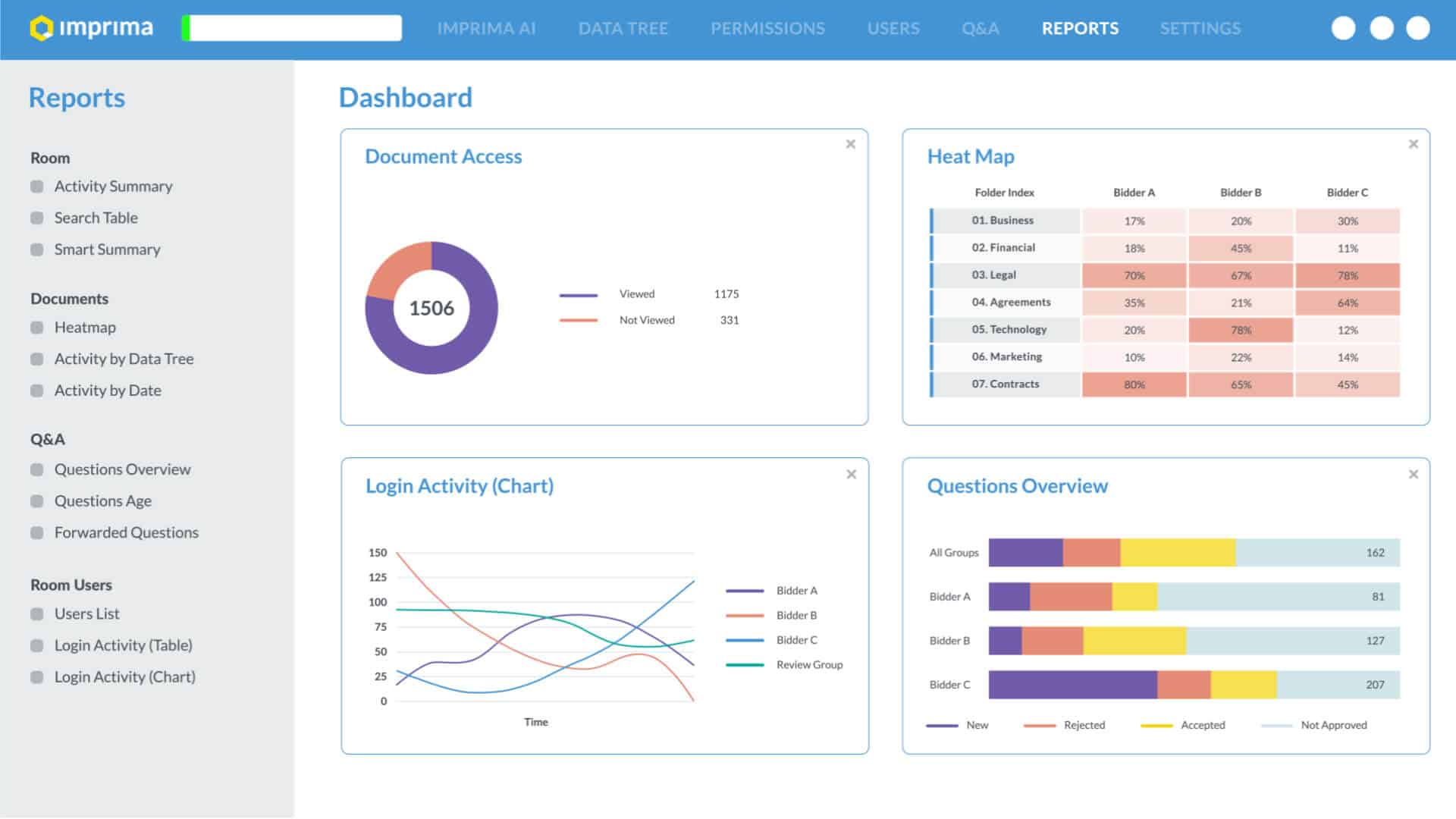 Imprima data room features
Security
Smart redaction
Granular permissions
Single Sign-On (SSO)
Two-factor authentication
Digital watermarking
Encrypted archives
Secure Excel viewer
User and data management
Auto-indexing
Drag-and-drop uploads
One-step document approval
Automated publishing
Customization
VDR branding
Customizable reporting
Customizable dashboard
Pros and cons
Let's explore the advantages and disadvantages of the Imprima data room software. This will help you make an informed decision when choosing the right solution for your company.
24/7 multi-lingual customer support team
A dedicated customer service manager, assisting users from the deal preparation to VDR archiving
Both manual and automated data tree structure creation
Automatic contract summaries of legal documentation
Integrations with other document management systems
Advanced Q&A with features for import, export, visual reporting, and question threading
Occasional tech issues like the inability to drag or delete a file
Complicated procedure for password creation
No fence view feature to prevent screenshots
Pricing
The Imprima data room provider offers two pricing options for their VDR solution: 
| | |
| --- | --- |
| Introductory package | It's priced at €250 per month and includes a single data room with unlimited users. This package provides self-service capabilities, 500 MB of storage, 24/7 support, and several features like real-time reporting and dynamic watermarking. |
| Enterprise package | Users need to contact the sales representatives for the pricing details. The package includes multiple VDRs, unlimited users, a dedicated project manager, unlimited storage, full product training, payment flexibility, and complimentary AI tools. |
Check price
Security features
The virtual data room provider believes that prevention is better than cure and offers several features that help get ahead of any security threats:
Two-factor authentication

. The feature requires users to provide two forms of identification to access the VDR, typically a password and a unique verification code sent to their mobile.

Microsoft's Azure Storage services

. By leveraging Microsoft's secure and reliable cloud storage infrastructure, the provider ensures that the data stored within the platform is protected with advanced encryption and robust security measures.

Granular permissions

. It allows administrators to set specific access rights for individual users or user groups, minimizing human error and risks.

Two-step publishing

. This feature ensures a thorough quality control process by either a single or two-person review, guaranteeing only accurate and intended information is released.
Imprima also maintains three vulnerability and penetration testing programs:
Internal testing

— continuous assessment by internal teams against emerging threats.

Third-party testing

—  involves engaging CREST-approved agencies for annual grey-box testing.

Custom penetration

—  collaboration with customers for their own security assessments.
Top 3 data rooms software
1
Overall rating:
4.9

/5

Excellent
Check price
2

Overall rating:
4.7

/5

Good
View Profile
3

Overall rating:
4.6

/5

Good
View Profile
Comparison of the top 3 data rooms
General business
Top use cases
M&A, Finance, Life sciences and healthcare, Energy, Real estate, Tech
M&A, Finance, Legal
M&A, IPO, Capital raising, Healthcare, Real estate
What users appreciate
Excellent support, easy-to-use, encryption and security features
Encryption, data analysis tool, support
Reliable support, comfortable platform
Features
Fence view
Granular access permissions
8 levels
4 levels
5 levels
Dynamic watermarking
Built-in redaction
Two-factor authentication
Advanced Q&A
Automatic reports subscription
Detailed audit trail
Auto-notifications about new activity
Custom branding
Support
Live chat
Email support
Phone support
FAQs
Where are Imprima headquarters located?
Imprima is headquartered in London, Great Britain. It also has offices in Germany, France, the Netherlands, the USA, and Australia.
How much does Imprima cost?
The introductory package is €250 per month. It includes one data room and unlimited users. For the pricing details of the Enterprise package, which includes multiple VDRs and unlimited users, prospects need to contact the sales reps.
What is Imprima used for?
Imprima is used as a secure virtual data room solution for managing and sharing sensitive documents during mergers and acquisitions, due diligence processes, fundraising, and other business transactions.
Global rankings
1
4.4
4.5