13
Overall rating:
3.6

/5

Average
Dealroom
Free trial: 14 days
Year founded: 2013 Located: Chicago, IL, USA Website: dealroom.net
4.1
Ease of use
Average 4.1
4.1
Customer Support
Average 3.9
4.2
Ease of setup
Average 4.2
Global rankings
4.3
4.6
4.5
Dealroom virtual data room software:
the complete guide
Dealroom is a data room provider that started as a small company in downtown Chicago in 2012. The provider caters to a variety of industries and use cases, including private equity, corporate development, investment banking, real estate, startups, IPOs, and venture capitals. Among its clients are global leaders, including AZEK, Emerson, Jamf, and Cadence Education.
Besides, DealRoom offers several products, among which are solutions for due diligence, M&A management, pipeline management, and post-merger integration. There's also a virtual data room called FirmRoom. 
Let's learn about the provider's services, prices, pros, and cons in more detail.
Software screenshots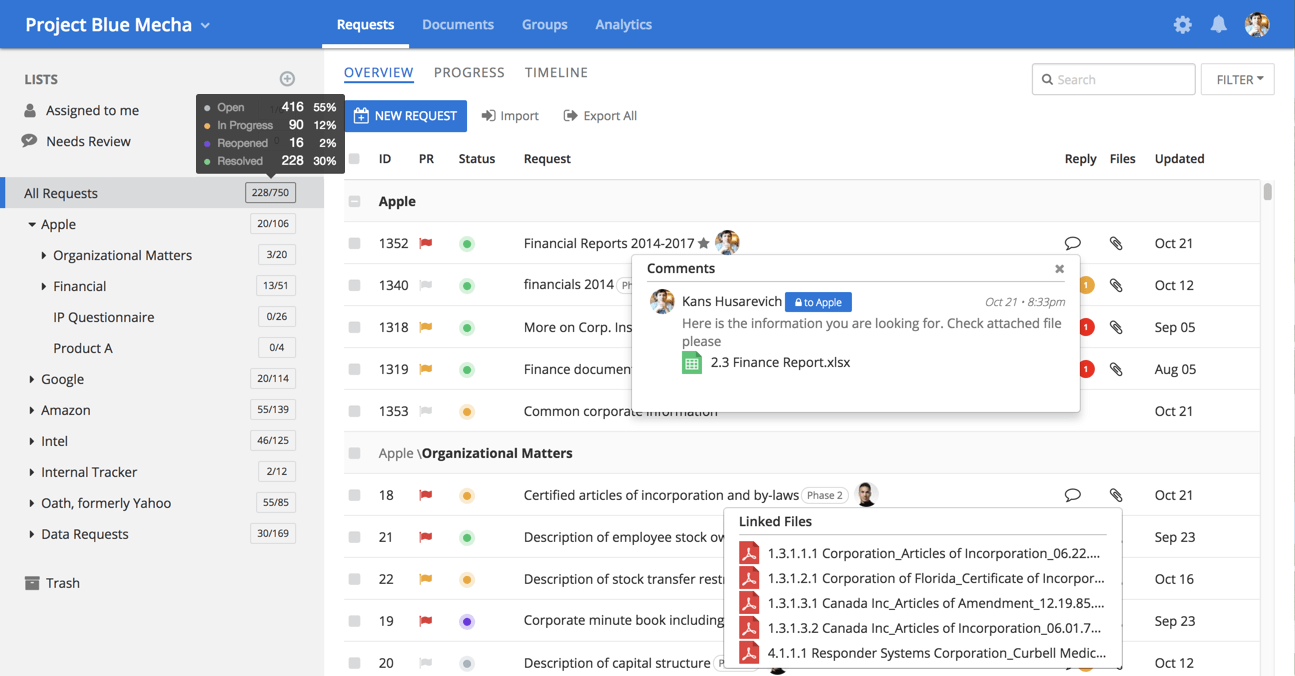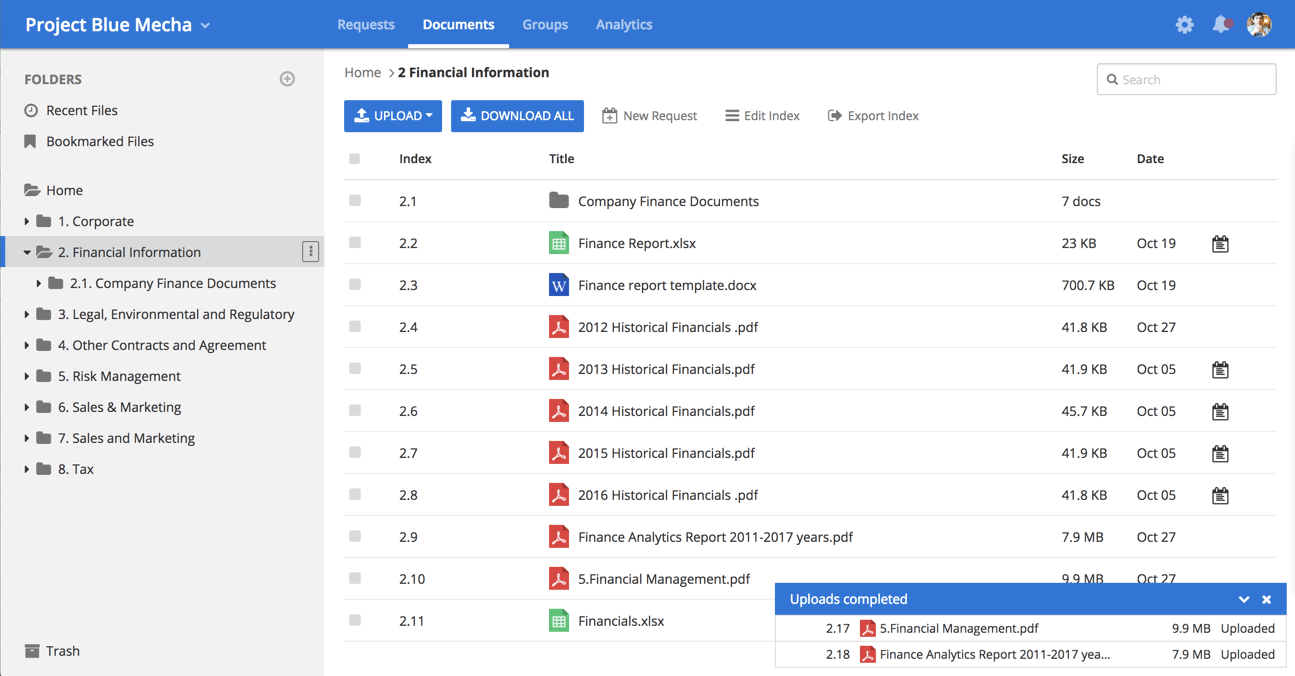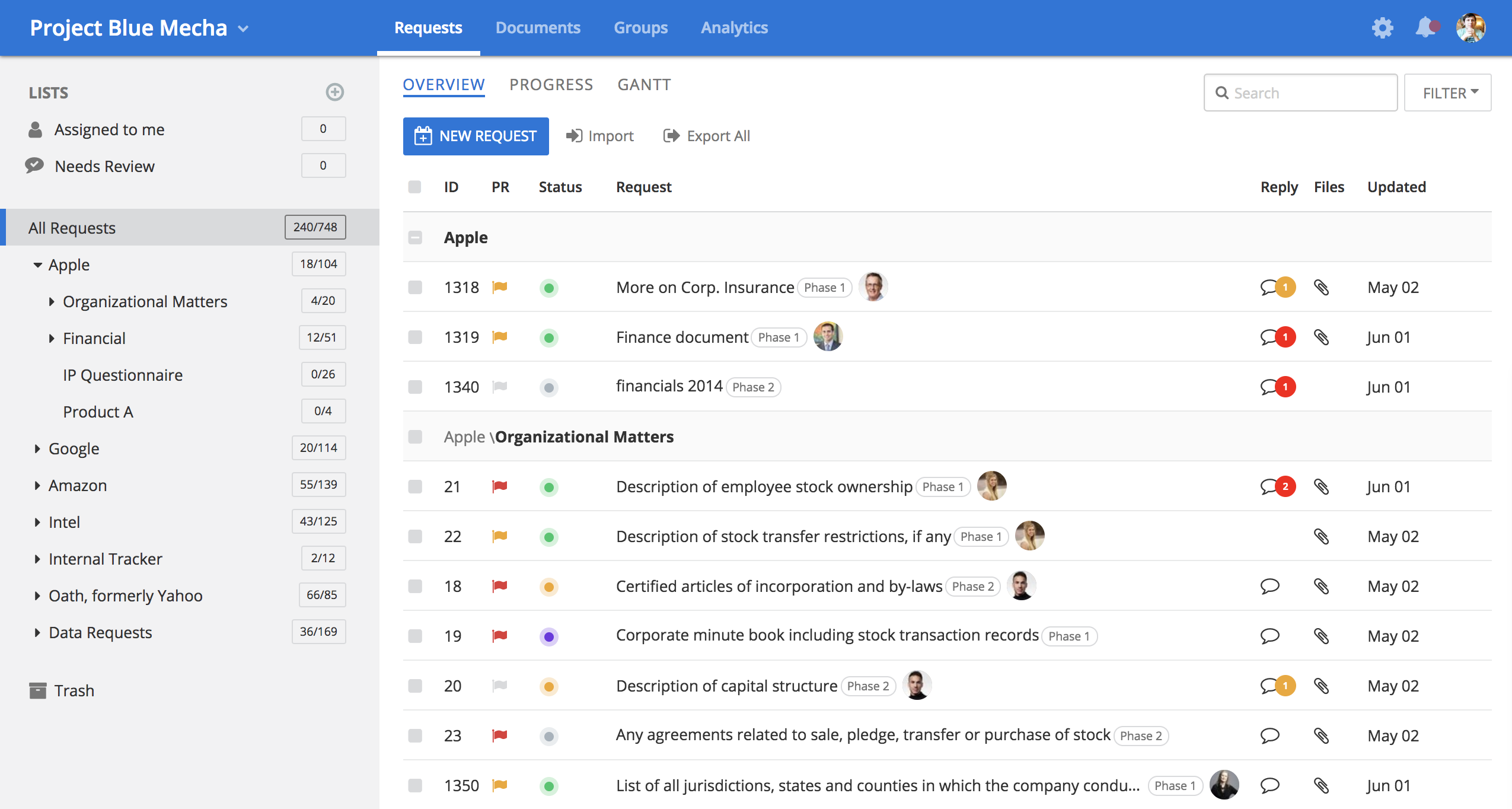 Dealroom data room features
Security
Two-Factor Authentications
Customizable document permissions
View-only access
Monitoring and reporting
Dynamic and static watermarking
Multiple Datacenter Locations
Data encryption
Detailed trails
User and data management
Drag and drop upload
Automatic index numbering
Roles assignment
Comments and tags
Notifications
Customization
Search customization
Customized workflow
Branded interface
Pros and cons
Now let's look at the advantages and disadvantages of the virtual data room.
User-friendliness: intuitive and easy-to-use interface
Industry-leading support: 24/7 support via chat, phone, and email
Requests management: priority flags, statuses, assignee, reviewer replies, and labels eliminate the need for Excel trackers
Reporting and analytics: audit reports for regulated and non-regulated industries
Integrations: the software can be integrated with other tools like Slack, Okta, Salesforce, and Office 365
40% faster due diligence: no need for Excel spreadsheets, emails and frequent meetings, which streamlines communications and workflows
Download issues: occasional slow download speed
No multiple admins: limited flexibility in managing user roles and access levels within the platform
Few customization features: limited abilities to tailor the platform to specific business needs
Pricing
There are three pricing plans for the data room software to cater to different needs and requirements:
Single Project
Pipeline
Execution Suite
Professional
Enterprise
Price

$1,295 —  $4,995 per month

Starting at

$11,995 per year

Custom pricing on request

Best for

1 acquisition per year

Multiple deals managed simultaneously

Frequent acquirers (1-5 deals per year)

Serial acquirers (5+ deals per year)

What's included

1 project 

Unlimited users

5-250 GB of data storage

Unlimited data profiles

Unlimited users

1 GB of data storage

10 rooms 

Unlimited users

20 GB of data storage

Unlimited rooms

Unlimited users

50 GB — 10 TB of data storage
Check price
Security features
Dealroom's customers leave positive feedback on its security — "The platform's robust security measures and permissions settings have instilled confidence in our stakeholders, knowing that their sensitive information is protected."
The virtual data room provider indeed offers a range of robust security features. Here are the most essential ones. To ensure only authorized users have access to the data room, Dealroom offers:
Two-factor authentication

. It adds one more layer of verification beyond just a username and password.

Customizable document permissions.

The feature provides control over access to specific information within the virtual data room.

Encrypted and protected data.

Data encryption at rest and in transit prevents unauthorized access.

Strict ID protocol.

Single-user ID and password protocols ensure strong data protection.
To protect data stored within the platform, the following tools were developed:
View-only access

. Documents can be viewed but not downloaded, ensuring they're not saved for later.

Document view restriction.

Portions of documents can be restricted, allowing for safe collaboration.

Private cloud servers.

Data can be stored in private cloud servers, which ensures only appropriate parties have access to it.

Watermarking.

The tool prevents unauthorized sharing and tracks document origin.
DealRoom also has all necessary data center certifications for security and compliance, including:
SOC 1.

It evaluates the effectiveness of internal controls related to financial reporting, ensuring the security and integrity of financial information within the organization.

SOC 2.

It assesses the security, availability, processing integrity, confidentiality, and privacy of data within the organization.

HIPAA and ITAR compliance.

Certifications ensure that data handling and security practices meet the specific requirements for handling sensitive healthcare or defense-related information, respectively.

ISO 27001.

It focuses on information security management systems, assessing the organization's practices for protecting information assets and managing potential risks.

GDPR.

GDPR compliance ensures that the organization adheres to the data protection and privacy regulations outlined in the European Union's GDPR framework.
Top 3 data rooms software
1
Overall rating:
4.9

/5

Excellent
Check price
2

Overall rating:
4.7

/5

Good
View Profile
3

Overall rating:
4.6

/5

Good
View Profile
Comparison of the top 3 data rooms
General business
Top use cases
M&A, Finance, Life sciences and healthcare, Energy, Real estate, Tech
M&A, Finance, Legal
M&A, IPO, Capital raising, Healthcare, Real estate
What users appreciate
Excellent support, easy-to-use, encryption and security features
Encryption, data analysis tool, support
Reliable support, comfortable platform
Features
Fence view
Granular access permissions
8 levels
4 levels
5 levels
Dynamic watermarking
Built-in redaction
Two-factor authentication
Advanced Q&A
Automatic reports subscription
Detailed audit trail
Auto-notifications about new activity
Custom branding
Support
Live chat
Email support
Phone support
FAQs
Where is Dealroom located?
Dealroom is located in Chicago, Illinois.
Is Dealroom free?
No, Dealroom charges $1,295+ per month for its services, depending on the pricing package. However, it offers a free 14-day trial, so users can test the platform and see if it meets their requirements.
How much does Dealroom cost?
There are three pricing packages:
Single Project.

$1,295 —  $4,995 per month, best for one deal per year.

Pipeline.

Starts at $11,995 per year, best for multiple deals managed simultaneously.

Execution Suite.

Custom pricing, best for serial dealmakers.
Is Dealroom good for M&A?
Yes, DealRoom is a trusted and reliable platform for M&A. It offers secure M&A management tools that allow users to track deal flow, communicate with team members and third parties, assign responsibilities, and complete due diligence fast.
Global rankings
4.3
4.6
4.5