TOP 12 Virtual Data Room Providers
Provider
Review
Best for
Profile
Best Virtual Data Room Software: The Complete Guide
What is a virtual data room?
A virtual data room — also known as a virtual deal room or online data room — is an online platform for securely storing, sharing, and collaborating on documents. While there are virtually unlimited ways to use a data room, the most common cases include M&A, corporate due diligence, portfolio management, and real estate.
When it comes to what devices they work on, a digital data room can be available for desktop computers, mobile devices, or both. Some virtual data rooms are available on different operating systems, while others work on only one.
It's important to note that online data room providers usually offer their clients different service plans and that there is often at least one plan that allows admin users to create multiple secure data rooms. This is crucial for businesses that are working on multiple projects simultaneously since they can have one separate data room per project.
Virtual data room technologies are confidently taking over the deal-making scene across the globe. Some users find value in enhanced security combined with the convenience of online collaboration. Others seek specific tools and approaches to improve their workflows by using various deal room services.
In recent years, the tendency towards digitizing work processes gained unprecedented momentum. Companies across all industries found unique benefits in remote collaboration and decision-making.
Virtual data room providers played a crucial role in the global shift, as they addressed the most crucial concern for online document sharing: security. Sensitive data leaks can have catastrophic repercussions, especially for high-stake transactions, which are the main focus of a digital data room and its users. This is why the possibility of using a secure data repository has been a game-changer for remote work.
In recent years, the tendency towards digitizing work processes gained unprecedented momentum. Companies across all industries found unique benefits in remote collaboration and decision-making.
Virtual data room providers played a crucial role in the global shift, as they addressed the most crucial concern for online document sharing: security. Sensitive data leaks can have catastrophic repercussions, especially for high-stake transactions, which are the main focus of datarooms and their users.
Who uses virtual data rooms?
Initially used by financial institutions, virtual data rooms now have broad usage across various industries, including technology, healthcare, legal, and real estate. The data room industry dates back to the 1970s when the first disk was introduced. Here's a quick overview of the history of data rooms:

Floppy disk introduction. The first digital storage solution, the floppy disk, was introduced in 1971, offering more storage space and ease of transportation.

CD-ROM development. The CD-ROM followed in 1984 with a larger storage capacity, but still couldn't solve the problem of sharing confidential documents remotely.

The introduction of the internet. The internet's arrival in the 1980s paved the way for virtual data rooms, enabling digital data sharing.

The first virtual data rooms. Virtual data rooms appeared in the 1990s with continued efforts to improve security.
Let's take a closer look at various applications of data rooms.
Technology
The technology industry is among the earliest adopters of virtual data rooms, as they enable large tech companies to share information and facilitate collaboration among teams located worldwide. Furthermore, VDRs play a crucial role in facilitating the flow of ideas within these organizations.
Power features: AI-based features for document management, bulk invitations, color-coded reports, interactive activity diagrams, and document timestamps
Private equity and venture capital
Private equity and venture capital firms often have to manage large amounts of data during the deal analysis process. To stay organized and on top of their many deals, they frequently rely on VDR solutions to store and manage this data securely.
Power features: bulk upload and bulk invitation, drag-n-drop upload, auto-indexing, audit trails, document approval, Q&A, and FAQ
Investment banking
During IPOs, capital raising, and M&A processes, significant amounts of information sharing are required, which makes virtual data rooms an ideal solution for investment bankers. With data rooms, they can easily manage and track access to sensitive information with regulators, potential buyers, investors, and other parties, while making sure it stays secure.
Power features: Spreadsheet viewer enabling formulas, full-text search with text recognition, view-only access levels, and remote access controls
Legal industry
The legal industry has a reputation for being overwhelmed by vast amounts of paperwork. However, the adoption of electronic document sharing is transforming the industry. That's because VDRs allow for the efficient sharing of documents across all types of legal proceedings, replacing traditional filing cabinets and streamlining the document-sharing process.
Power features: auto-indexing, built-in Excel viewer, secure link sharing, document heatmaps, and integrations with project management tools
Audit companies
With a recent report on the efficiency of the audit process released by The Canadian Public Accountability Board (CPAB), it became apparent that there's room for improvement in audit companies' work results. Three out of four large audit companies had fewer than 10% of files with significant findings. As CPAB concludes, new quality and management standards should be introduced to address the challenge.
As a new data management approach, virtual data rooms can be used. With real-time secure document access and fully-traceable audit trails, organizations can benefit from a more efficient and streamlined audit process.
Power features: audit logs, reports subscription, reports customization, FAQ and Q&A sections, automated workflows, document approval, multi-format support, auto-indexing, and free data room archive
Startups
Virtual data rooms can benefit startups with their communication with potential investors. Additionally, startups can track investor activity and engagement by using VDRs to monitor the time spent reviewing company documents and identifying which documents receive the most attention.
Power features: version control, multilingual interface, FAQ and Q&A, interactive diagrams, custom color-coded reports, auto-notifications, customized branding, and reports subscription
Real estate companies
During real estate transactions, a data room can serve as a centralized repository for real estate documents, including contracts, title reports, environmental reports, and property surveys, allowing all parties involved to access and review the information in real time. This ensures secure and controlled access to sensitive information while also significantly saving time.
Power features: real estate video tours, multi-format support of video and audio files with no need for conversion, data room branding, and automated redaction
What are the main use cases for virtual data rooms?
Data room software is used across many industries (if not all of them!), by large businesses as well as small companies. This happens because any process that involves storing and sharing sensitive documents can be better carried out with the use of a virtual data room — whether it's distributing confidential information within a film production company, storing the results of life sciences research in a biotech company, or licensing intellectual property.
In fact, there are hundreds of different ways to use virtual data room solutions. But the most common use cases are the half dozen listed below.
M&A
Mergers and acquisitions always involve a series of intricate financial transactions and processes. A virtual data room for M&A can help with streamlining the entire workflow by centralizing all the documentation, offering specific benefits at every stage of the deal.

For example, during a corporate merger, the deal marketing team can use the virtual data room software to share materials and gather feedback, while the company's HR can upload the employee contracts and other necessary files.
As another example, when a company is acquiring another, their legal departments can use a VDR solution to share all the legal documentation necessary for the transaction, including:
purchase agreement
employment agreement
non-competition agreement
consulting agreement
transition services
office leases
Due diligence
Thorough document checks are a part of any critical transaction, including acquisitions, investments, and more. A data room can work as both the file repository and the collaboration and interaction platform for all the parties involved in a due diligence process.
For instance, in real estate transactions, online deal rooms are the best solutions for agents and managers to collect and share with their prospects confidential documents such as:

the seller's financial records
tax certificates
property titles
leases
zoning regulations
Fundraising
The main challenge of raising funds remotely is the number of potentially interested participants. Using datarooms in such a case allows capital seekers to monitor the process better, evaluate enthusiasm levels, and share just the right data with each entrant.
For instance, in fundraising for startups, the startup founder can use a virtual deal room to share with potential investors confidential documents such as:

financial statements
annual projections
list of references (team members, advisors, current investors, etc.)
By accessing user data analytics and reports, the data room admin can check who is viewing each file, how many times, and for how long. This allows them to gauge the interest of each potential investor in the startup, and decide on whom to invest their time and attention.
Audits
A secure data room is also an excellent solution for various audits, mainly financial ones. The data room offers the necessary amount of transparency brought by activity tracking and user-level rights management. This way, the auditing happens more smoothly and productively than it would if the auditors were using a physical data room.
Using virtual data rooms, company managers can share with auditors sensitive documents such as:

payroll reports
data on corporate bank accounts
the general ledger
copies of legal documents
Besides ensuring data security, virtual data rooms offer the possibility of naming and organizing files and folders so that it's easy for auditors to go directly to what they need, saving time. Virtual data rooms also make it possible for external auditors to work remotely, with no need to commute to the premises of the company they are auditing.
IPO
Filing for an Initial Public Offering is a multi-stage process that requires the expertise of many different contributors, such as investment bankers and lawyers. Virtual deal rooms simplify the process of gathering documents, sharing them with experts, and getting their opinions and edits.
A virtual data room also makes it possible to organize the phases of the process by separating them and helps managers closely observe the overall progress.
Secure document sharing
Exchanging critical data is also essential to board management, expansions, restructuring, and many other procedures, including legal procedures. Virtual data room software that meets the specific needs of each project while offering top-grade security and versatile features always makes an invaluable addition to the workflow organization.
For instance, in civil litigation, a virtual data room can be the best solution for lawyers to organize and work together on confidential data such as:

legal research
records of witness interviews
documents they need to review
In the case of board management, the board secretary can use a data room solution to share multiple files, such as meeting agendas, board packs, meeting minutes, and other board documents. Board members can collaborate on the documents ahead of the meeting, or even during it.
What security features make virtual data rooms unique?
Virtual data room providers rightfully prioritize security, as it is the foundation of every remote deal's success. Efficient data room software can significantly improve the way sensitive data is handled by automating most processes and reducing the risk of human error.
There are several key factors to consider when evaluating the security approaches of different data room vendors. They are the following.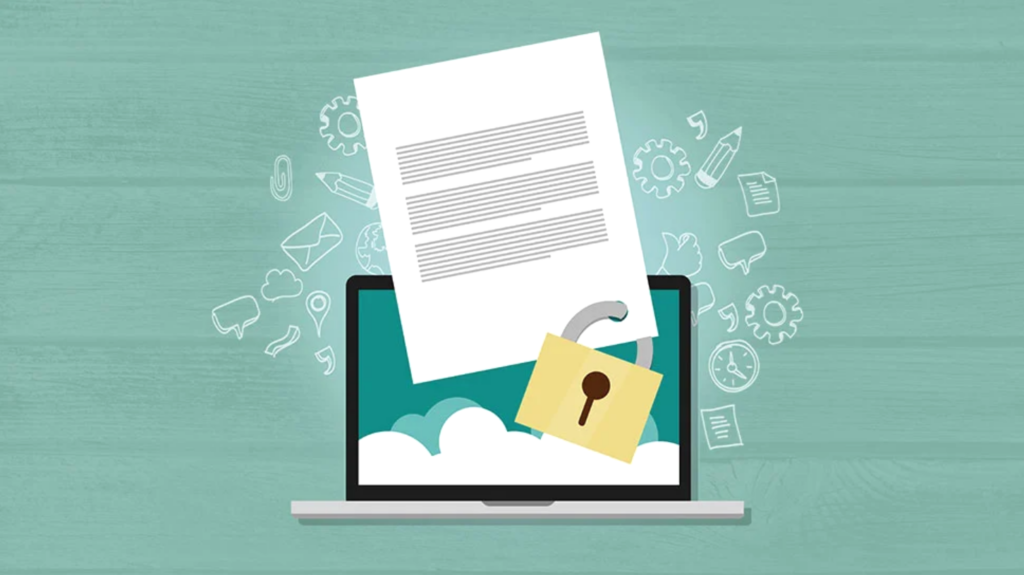 Security compliance
Since secure cloud storage is the reason why VDRs exist in the first place, data room vendors must take all the necessary measures to comply with industry-wide security standards for data protection. Examples of virtual data room certifications and compliances include ISO/IEC 27001, SOC (SOC 1, SOC 2, and SOC 3), GDPR, HIPAA, and others. When a data room has these security certifications, you can take it as a guarantee of protection for your confidential data, and of safe information exchange.
Physical security
Since physical servers power data room software, it is crucial to know where the VDR data centers are, how the provider ensures their maintenance, and what security measures are in place to protect them. Some virtual data room services facilitate their own data storage, while others employ third-party services such as AWS or Microsoft Azure.
Access permissions
Not every virtual data room user has the same rights and privileges. Based on every contributor's part in the project, the datarooms need to allow role-specific permission assignment for groups, individuals, and even particular sections of the online data room, thus ensuring thorough access security and file protection.
Visual document protection
Even authorized users can accidentally compromise data security by accessing the virtual data room in a public space. That's why advanced data room providers offer secure-view features like fence-view or instant shield, which ensure sensitive documents won't be seen by the wrong eyes.
Document access
A good virtual data room software will also let users configure the safety conditions on the document level. For example, datarooms can facilitate assigning file expiration, NDA pop-ups, terms of access, and other conditions that increase document security.
User activity reports
Experienced virtual deal room providers know how important it is to keep a hand on the pulse of the deal by monitoring the progress in general and every participant's activity in particular.
Remote shred
Virtual deal room services such as remote shredding, printing limitations, screenshotting, and downloading restrictions can further improve users' sense of control and confidence.
What are the real benefits of a virtual data room?
Virtual data rooms simplify all document management processes because they do not suffer from the same limitations as physical data rooms. With a virtual data room, there's no need for data managers to spend time and effort printing, binding, and transporting thousands of printed pages. There's no need for them to spend more time and effort filing, organizing, and updating documents. There's no need for external stakeholders to travel to a different location to consult documents. And there's no need for any party to worry about leaks of confidential data.
Let's look more in detail at the benefits that modern virtual data rooms provide, and why they are more convenient than both physical storage, and non-secure cloud-based storage (such as Google Drive).
Document management
Data rooms offer rich functionality for document management — from convenient drag-n-drop upload and bulk upload to auto-indexing, full-text search, and easy file navigation and management with a range of advanced filters and labels:

Drag-n-drop upload allows you to populate a newly opened data room in one click. Users can simply drag files or folders into the data room's upload window. The best part? The process is fully integrated, and thus, no plugins are required. Users can also upload files in bulk.

Auto-indexing. Once the data is populated, it gets automatically indexed by a data room. It reduces time and makes manual data organization needless.

Full-text search. Users can easily locate the data they need by using combinations of keywords and search tags, labels, and filters. Some data rooms also have OCR (optical character recognition) technology that can search for a word or phrase in any document in a data room.
User management
In terms of user management, virtual data rooms offer customizable levels of access, bulk email invitations, in-app auto-notifications, and more:

Customizable user access levels. Admins can establish detailed user permissions to improve data room integrity and create easily trackable audit records.

Bulk email invitations. Data room users can be invited individually or in bulk with the help of custom email invites. When inviting new users, admins can set access permissions, sign-in security options, configurations of access to the Q&A section, and the frequency of new document upload notifications.

Efficient notifications. Data room users can customize the frequency and the way of receiving auto-notifications about new activity.
Ease of use
To ensure unprecedented ease of access and use, virtual data rooms commonly offer simple login procedures via single sign-on (SSO), scroll-through documents view, and plugin-free work with documents — all in an intuitive, usually multilingual interface:
Plugin-free work with documents. With this feature and multi-format support, users can effortlessly view and sometimes even edit online documents in their original format. Some of the best data rooms don't require any installation of third-party plugins.

Log in via single sign-on (SSO). With this feature, users can easily log in to the data room through their corporate account used across all projects. Not only does this procedure make login more secure but it also makes it easier, eliminating the need to remember multiple login credentials.

Scroll-through view. While this feature is not offered by all data rooms, it allows users to easily navigate through hundreds of files, moving from one document to the next with only a few clicks.

Furthermore, modern data rooms support various operating systems, having custom solutions for many devices and operating systems.
Communication
In terms of communication, data rooms play a crucial role while centralizing it in one secure environment. Data room users can conveniently communicate and collaborate via the Q&A system:

Advanced Q&A roles. Many data rooms have advanced roles for Q&A users, enabling them to ask questions, post answers, and get them approved. The entire process is recorded and encrypted, and thus fully secure.

Numerous communication points. Q&A users can make the answering process more efficient by submitting answers with accompanying annotations, making references to certain data room files, and even attaching documents to their questions or answers. On top of that, answer contributors can often communicate in private, with the discussion being available only to users with a proper level of access.

Expert assignment. As one of the most valuable features of Q&A, it certainly deserves special attention. It allows assigning experts to certain topics (e.g., law, finance, human resources) while, therefore, increasing the relevance and quality of answers. The assignment process is, in most cases, completely automatic.
Security
As mentioned before, security is among the most powerful advantages of data rooms for corporate use. Every data room has a set of powerful features on the operational, access security, and document security level, ensuring full-cycle data protection. Here's how:
Operational level. On this level, data rooms employ at-rest and in-transit multi-layered encryption, comply with global security standards, develop disaster recovery and prevention plans, and ensure the physical security of data centers.

Access security. On this level, data rooms offer protection from unauthorized access through single sign-on and multi-factor authentication, as well as granular permissions and IP- or time-based restrictions.

Document security. On the document security level, data rooms have various document access controls, including fence view, redaction, remote wipe, and remote shred. Additionally, they feature digital watermarks and detailed audit trails.
Cost-efficiency
Among other benefits of a purely technical nature, data rooms prove to be cost-effective as well:

No travel and accommodation expenses. Data rooms can help reduce unnecessary travel costs and delays caused by courier services or communication with multiple parties.

Data room archive. Many VDRs can create a USB or DVD archive of the data room once the deal is closed. Some vendors even offer it free of charge.

No printing expenses. Data rooms eliminate the expenses incurred by multiple printing services.
6 steps to help you choose the best virtual data room
The most challenging step of transferring your project to a virtual data room is selecting the best data room software. The data room defines how fast the deal will close and how convenient the process will be for everyone involved.
Considering the abundance of products in the current virtual data room market, the best solution is to follow a decision-making framework. Here are the steps to follow when looking for a fitting secure data room:
Step 1: Allocate the data room budget
Data room services cost differently depending on the user's company size, project type, and the VDR provider's price formation policies. The best idea is to look at past clients of data room providers to estimate the approximate budget.
Step 2: Identify available data room providers
The next step is to gather a list of available, secure data room providers based on the price, regions of operation, and market expertise. Shortlisting the best data room providers for your company will include checking websites and examining relevant feedback.
Step 3: Outline the required virtual data room features
Different use cases call for specific virtual data room features. The crucial aspect here is to define the data room services and tools that will bring value to a specific project. When you complete this step, you should have a list of necessary features — which you will use in the next step to compare virtual data rooms.
Step 4: Compare datarooms
The next stage is to compare your shortlisted data room options using the criteria you decided on in the step above. By drawing up a virtual data room comparison table, you will quickly find out which providers can fully answer your business needs. Picking two or three data room providers out of these should be enough.
Step 5: Contact the data room providers
Once the target virtual data room companies are identified, it's time to reach out to the support teams of the different providers to ask questions about their VDR services, estimate the project's cost, and address any other concerns.
Step 6: Request a virtual data room demo
A data room demo can help make a more hands-on decision. And if a virtual data room offers a free trial period, you can sign up for trials with one or two providers. This will help you check which one is the best virtual data room for you, and you can also use the trial period to prepare the data room of your choice for future operations.
Why you should use a virtual data room
Now let's summarize the key points above and figure out what makes the use of a virtual data room essential:

A virtual data room is a secure platform for storing and exchanging confidential documents. It is quickly replacing physical data rooms and regular cloud storage solutions, becoming a reliable choice for corporate use.

The virtual data rooms are now used in technology, private equity, investment banking, legal, real estate, and some other sectors.

The most common use cases of virtual data rooms include M&A, due diligence, fundraising, legal document management, regulatory risk management, and secure file sharing.

Unlike their physical counterparts, virtual data rooms offer flexible document and user management, as well as around-the-clock availability, communication, and ease of use. They are also considered more secure and cost-efficient than physical storage.

When selecting a virtual data room, it is important to consider pricing plans and the value offered in each, as well as free trial availability.

We've done our part and compared the most experienced VDR providers against their reputation, ease of use, security, document management, support, and pricing.

We consider iDeals, Intralinks, and Datasite to be the best virtual data rooms on the market. However, we invite you to draw your own conclusions.
FAQs
What is a data room?
A virtual data room (VDR) is a cloud solution where companies can securely store and share confidential business information.  
Why do you need a data room?
Deal makers need data rooms for secure and effective storage, distribution, and management of confidential data. The most common use cases are mergers and acquisitions, fundraising, IPOs, tenders, and legal proceedings. 
Are data rooms expensive?
Data room pricing varies widely, starting from $0.40-$0.85 per page and ending with thousands of dollars for a yearly subscription. The final cost depends on the data storage volume, number of VDR users and administrators, document management tools, security features, client support, etc.
Are data rooms a good investment?
Yes, a data room is a good investment because it provides users with the necessary tools for secure and comfortable management of all kinds of business deals and gives full control over confidential information. Besides, a virtual data room is more secure than free cloud storage and less expensive than physical data rooms. 
How do you set up a data room?
First, choose a virtual data room provider that corresponds to your needs. Second, let a sales rep conduct a demo and show you how the platform functions. Third, create groups, add new users, and set permissions. Finally, upload documents and share them.
What should a data room look like?
A data room looks similar to cloud storage platforms like Google Drive or Dropbox. It usually has several tabs, such as documents, users, Q&A, or reports. There's also a list of folders and a list of documents. For users' convenience, there are search filters too. A data room's interface should be intuitive and user-friendly.
What is a data room for startups?
A data room for startups is a solution that CEOs use for fundraising. With it, they can store and share sensitive documents with prospective investors securely, effectively, and fast.
What is a data room in private equity?
A private equity data room is virtual data room software for private equity deals. Using it, users can securely store and share confidential documents between the parties involved in the process. The main use cases are loan syndication, sourcing deals, private placements, debt and equity fundraising, and sell-side and buy-side M&A.
What is an investor data room?
An investor data room is a secure online space where companies share critical information with potential investors who want to investigate the economic, legal, fiscal, and financial affairs of a business before any decision-making. A data room makes the process fast, convenient, and efficient.