10

Overall rating:
3.9

/5

Average
Securedocs
Free trial: 14 days
Year founded: 2012 Located: San Francisco, CA Website: securedocs.com
4.2
Ease of use
Average 4.1
4.2
Customer Support
Average 3.9
4.3
Ease of setup
Average 4.2
Global rankings
4.8
4.9
4.9
SecureDocs virtual data room software:
the complete guide
SecureDocs is a virtual data room that provides customers with secure storage and exchange of data internally and externally. The high level of privacy protection makes the platform suitable for due diligence, mergers and acquisitions, fundraising, auditing, and business valuation.
Software screenshots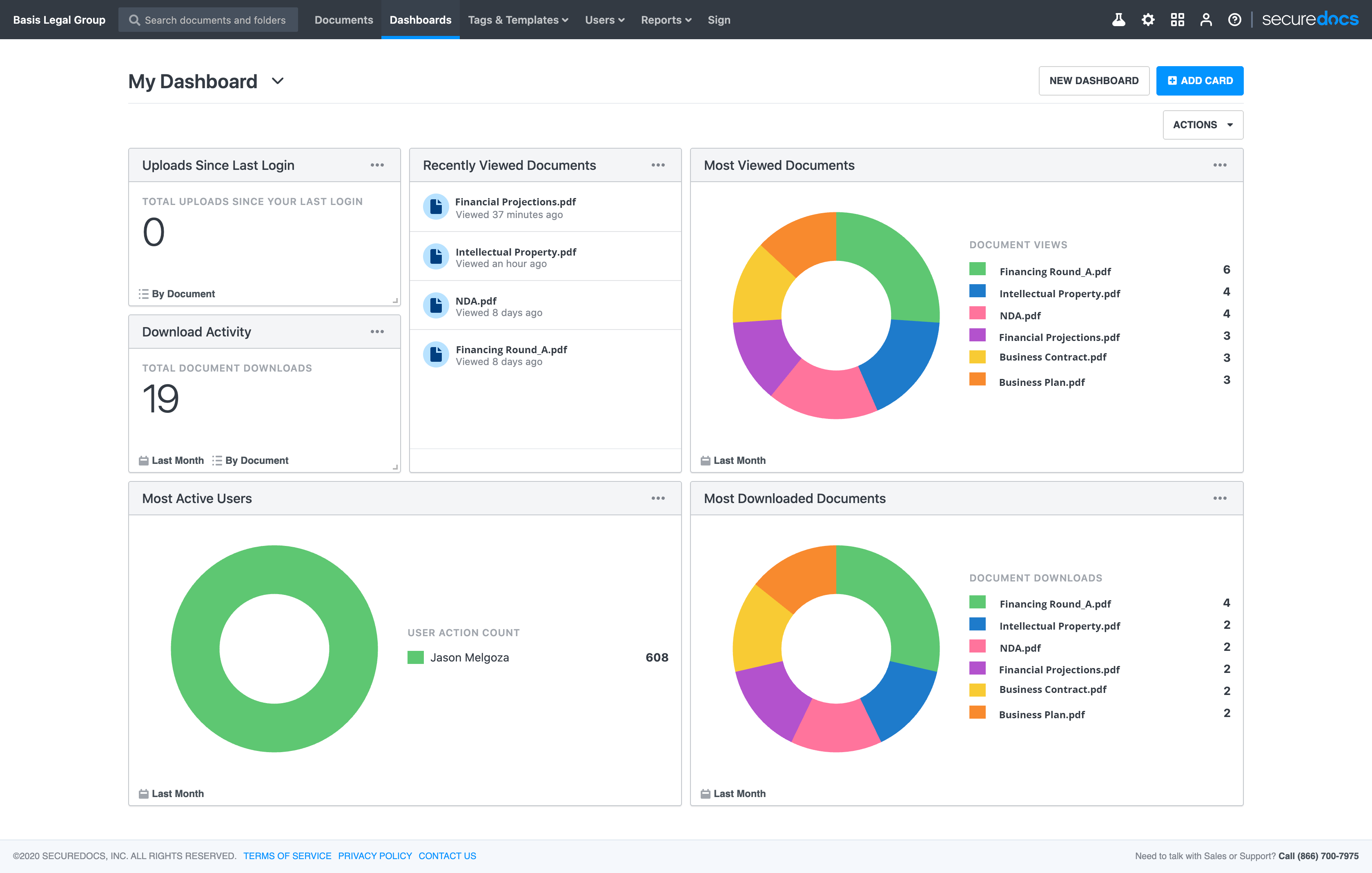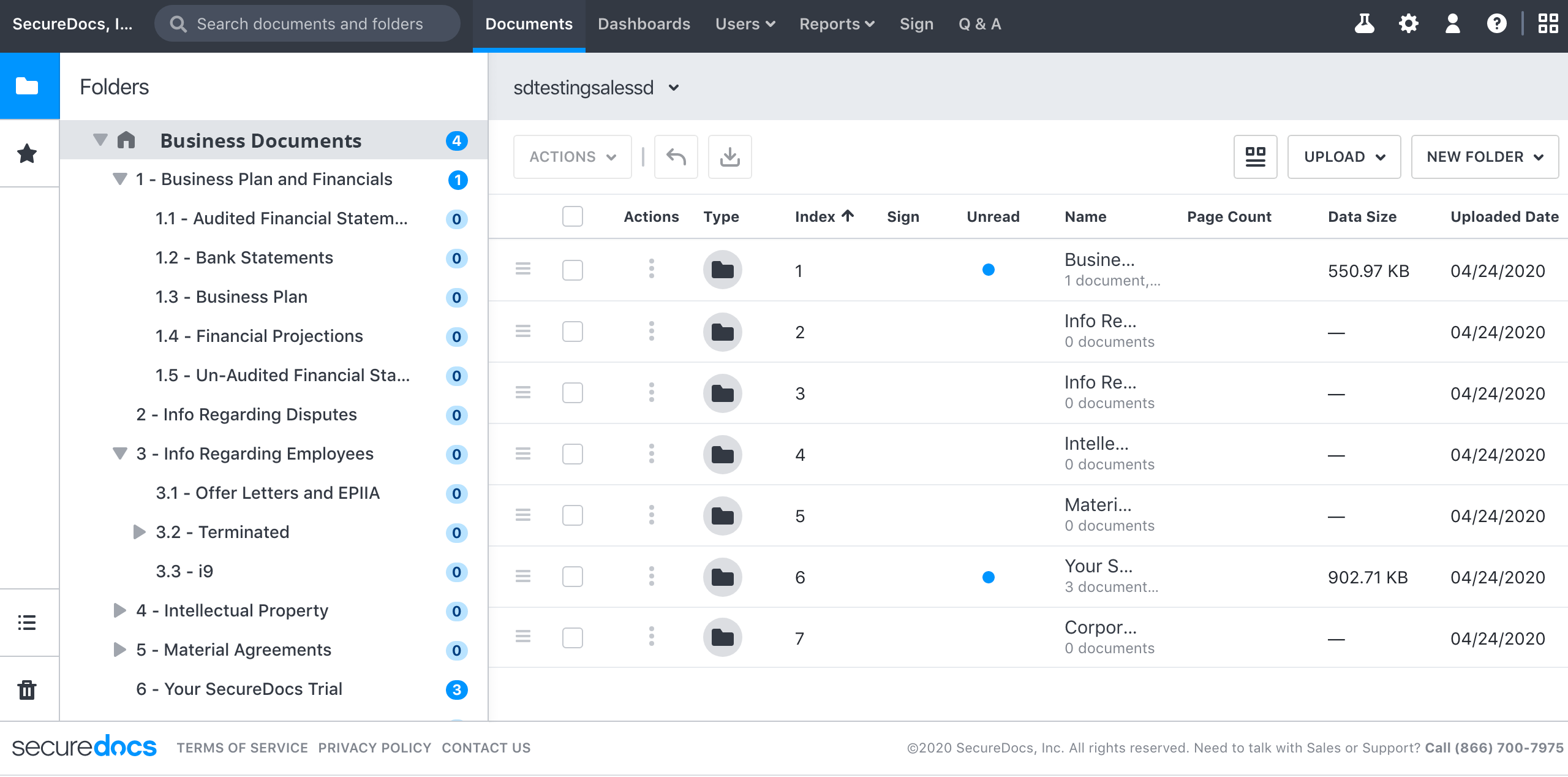 SecureDocs data room features
Security
ISO/IEC 27001:2013 Certified
SOC 1 Certified
GDPR Compliant Certified
HIPAA Compliant Certified
256-Bit SSL/TLS Encryption
Multiple Datacenter Locations
User and data management
Granular Document Permissions
View-Only Access
Permission Groups
Drag & Drop Upload
Automatic Numerical Indexing
Granular User Permissions
Customization
Customizable Document Watermarks
Custom Domain
Branded User Interface
Single Sign-On Integration
Custom Workflows and Features
Pros and cons
The Securedocs's virtual data room advantages include ease of use that features drag-and-drop and scan uploads. The provider also offers an unlimited number of users and storage. Additionally, technical support is available around the clock.
On the downside, Securedocs does not offer pricing for projects lasting less than three months. If users need an additional data room, they must pay for it separately. There are no packages featuring multiple data rooms. Also, the vendor does not provide flash drives for free — the cost of one USB drive is $300. Additionally, they only offer discounts to non-profit organizations.
Unlimited storage and users under all pricing plans
Customizable NDAs and watermarks
Read/unread document tagging
Flexible payment options
Multi-project management tools
Helpful user activity audit logs across multiple projects
No group permissions or special individual privileges
No file access expiry
No dedicated data room training for admins
Passive customer support team
Pricing
The Securedocs data room provider provides a transparent, fixed-fee pricing policy.
The 3-Month Plan is suitable for short-term projects. The plan includes storing, sharing, M&A data tracking, bankruptcy, and asset sale features. The cost is $400 per month — billed quarterly. A 14-day free trial is also available.
The 12-Month Plan better suits long-term projects and builds secure corporate storage for future deals. If there is a chance that a deal will last more than three months, then the 12-Month Plan is the better choice. The plan is priced at $250 per month — billed annually. A 14-day free trial is also available.
The third pricing plan is the Volume Packages Plan. It best suits those who manage many transactions simultaneously and need a safe, organized workspace. Contact Securedocs directly for a personalized quote.
Check price
Security features
SecureDocs data room applies privacy protection measures that comply with SOC 2, Type 2 standards. This report is a testament to the high quality of security systems, data processing integrity, and internal controls.
The virtual data room provider uses Amazon Web Services. These include security measures such as pin codes, segmentation, intrusion detection, biometric hand scans, firewalls, and security protection around the clock.
Additionally, 256-bit data encryption extends to documents at rest and in transit while Bcrypt works for storing passwords. All connections are secure with 2048-bit Authenticated Key Agreement and TLS 1.2 with 256-bit TLS Symmetric Encryption.
After a quick software launch, teams get the following features for managing documents:
Virtual workspace administrators can control data access. So, before work, users are granted permissions from the admin, including Download, View, Full Access, or No Access.
SecureDocs customers also have an audit log that includes time-stamped information on all activities on the platform. Additionally, the VDR monitors documents and highlights  investor or buyer interests.
Built-in electronic signature and templates make creating, sending, and signing nondisclosure agreements and deal paperwork quick.
An advanced search engine takes a few seconds to find documents by searching a keyword or phrase. Results can also be filtered by setting more specific parameters. For example, you can locate documents containing the keywords "due diligence" for the last 20 days.
Top 3 data rooms software
1
Overall rating:
4.9

/5

Excellent
Check price
2

Overall rating:
4.7

/5

Good
View Profile
3

Overall rating:
4.6

/5

Good
View Profile
Comparison of the top 3 data rooms
General business
Top use cases
M&A, Finance, Life sciences and healthcare, Energy, Real estate, Tech
M&A, Finance, Legal
M&A, IPO, Capital raising, Healthcare, Real estate
What users appreciate
Excellent support, easy-to-use, encryption and security features
Encryption, data analysis tool, support
Reliable support, comfortable platform
Features
Fence view
Granular access permissions
8 levels
4 levels
5 levels
Dynamic watermarking
Built-in redaction
Two-factor authentication
Advanced Q&A
Automatic reports subscription
Detailed audit trail
Auto-notifications about new activity
Custom branding
Support
Live chat
Email support
Phone support
FAQs
How much does SecureDocs cost?
SecureDocs offers flat-fee pricing plans, starting from $250 per month if billed annually. You can also order individually quoted volume packages and subscribe for a 30-day free trial. SecureDocs pricing plans include 24/7 support, unlimited users, and unlimited storage.
Is SecureDocs safe?
SecureDocs follows SOC 2 Type II security practices, certified by an independent auditor. SecureDocs provides enterprise-grade security options, including user-role permissions, 256-bit data encryption, two-factor authentication, password management tools, and others. SecureDocs also uses ISO 27001-certified Amazon Web Services (AWS) data centers.
What features does SecureDocs offer?
SecureDocs offers unlimited document storage, unlimited users, customizable dashboards, and real-time user statistics. As for data security, the solution encompasses AWS-certified data centers, intrusion detection, multi-factor authentication, user permissions, watermarking, and audit trail reporting.
Who are SecureDocs main competitors?
SecureDocs main competitors are iDeals, ShareVault, Ansarada, and OneHub. According to user feedback, SecureDocs could be better in terms of intuitiveness, pricing, and reaching ROI.

Global rankings
4.8
4.9
4.9