1
Overall rating:
4.9

/5

Excellent
iDeals
Fully functional free trial: 30 days
4.8
Ease of use
Average 4.1
4.9
Customer Support
Average 3.9
4.9
Ease of setup
Average 4.2
Check price
Global rankings
4.7
4.8
4.8
Ideals virtual data room software:
the complete guide
iDeals virtual data room is a universal secure data storage solution for companies across all sectors. iDeals offer extensive expertise in global deal handling, innovative tools, and customer-focused interface.
The iDeals data room allows for enough flexibility to serve businesses of all sizes, from boutique firms to international enterprises. This data room provider offers value to companies in M&A, real estate, life sciences, and investment banking sectors.
iDeals virtual data room provider also facilitates board management and communications via specialized digital boardroom software.
Data room features
Data management
Two-Factor Authentications
ISO/IEC 27001:2013 Certified
SOC 1 Certified
GDPR Compliant Certified
SSAE 16 Certified
Multiple Datacenter Locations
Security
Optical Character Recognition
Automatic Numerical Indexing
Document Version Control
View-Only Access
Secure Fence View
Granular Document Permissions
Customization
Branded User Interface
Custom Login Page
Active Directory Integration
Single Sign-On Integration
Managed Encryption Keys
Integrations Through APIs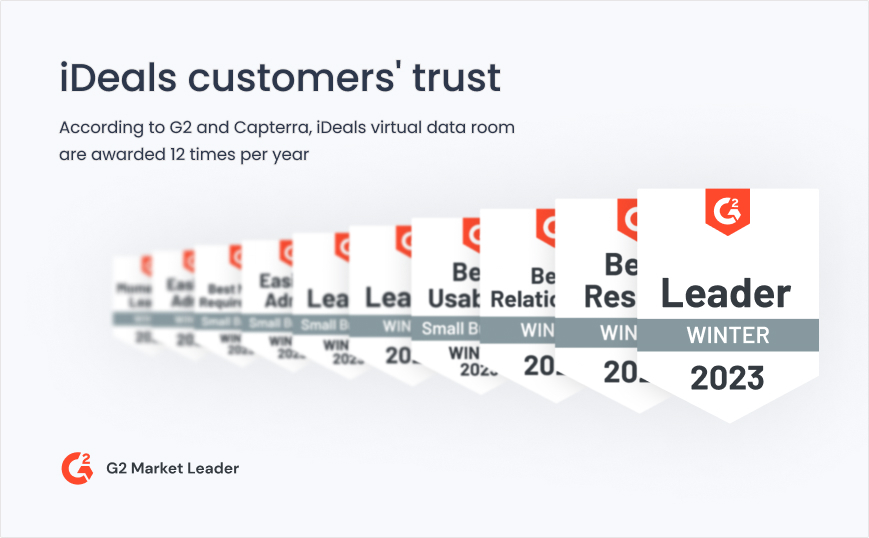 Pros and cons
Besides security, one of the strongest advantages of the iDeals data room is an intuitive and straightforward interface that allows for both a comfortable and productive user experience. The users can also choose to customize the platform according to their company's brand guidelines as well as automatically translate the content into over 90 languages.
The businesses that undergo mergers and acquisitions or other procedures that require due diligence will benefit from the easy-to-navigate workflows and versatile integrations. iDeals data room provider also helps to simplify and direct the Q&A process via a built-in tool.
Disregarding the project, all project handlers will find unique value in iDeals virtual data room reporting capabilities. The complete audits with activity details and color-coding ensure that the data is only accessed by authorized individuals and streamline the deal processing by addressing neglected or overlooked data room areas.
Additionally, the iDeals virtual data room provider made the platform available across all operating systems, including Web, iOS, Android, Windows, Mac, and Linux. Such versatile accessibility plays a significant role during cross-country and international projects.
In-app live chat support available 24/7/365, including weekends and holidays
Multilingual data room interface available in 15 languages
PDF auto conversion supporting 25+ file formats
Secure spreadsheet viewer supporting Excel formulas
8 levels of granular access permissions
Built-in document redaction
Auto-notifications for new activity
Detailed audit trail
Better functionality for less money compared to other vendors
Only 10 GB of storage under the basic plan
Limited interface branding options
Pricing details
Professional
Features
1 Project
5 Administrators
Unlimited Users
Flexible Storage
Check price
Business
Features
Unlimited Projects
Unlimited administrators
Unlimited users
Flexible Storage (Up to 250 GB)
Check price
Enterprise
Features
Unlimited Projects
Unlimited administrators
Unlimited users
Flexible Storage (Up to 1 TB)
Check price
Security features
iDeals data room has earned the reputation of a highly secure solution, with multiple levels of data protection. The data centers that power this virtual data room are located across every major continent and independently audited according to ISO/IEC 27001 and SOC 2 standards.
Other security certificates and compliances of the iDeals data room provider include GDPR, HIPAA, SOC 1, OWASP, and others.
In addition to top-grade physical data center security, with 99.5% server uptime and real-time backups, the iDeals virtual data room provider allows users to monitor and customize data protection inside the data room.
iDeals users have an option to establish up to eight levels of role-specific access permissions, restrict printing, downloading, and unauthorized sharing for specific documents, and closely track all the activity within the virtual data room via detailed reports.
Other security features of the iDeals data room provider include IP-based access restrictions, session time-outs, two-factor authentication, single sign-on for multiple projects, secure viewing, remote shred, dynamic watermarking, and customer-managed encryption keys.
Many of the iDeals data room users report enhanced usability and streamlined document organization. The virtual data room provider lets administrative users upload files in bulk, drag and drop documents into the data room, work with over 25 different formats, search for specific information across the entire platform, and automatically index the content.
Top 3 data rooms software
1
Overall rating:
4.9

/5

Excellent
Check price
2

Overall rating:
4.7

/5

Good
View Profile
3

Overall rating:
4.6

/5

Good
View Profile
Comparison of the top 3 data rooms
General business
Top use cases
M&A, Finance, Life sciences and healthcare, Energy, Real estate, Tech
M&A, Finance, Legal
M&A, IPO, Capital raising, Healthcare, Real estate
What users appreciate
Excellent support, easy-to-use, encryption and security features
Encryption, data analysis tool, support
Reliable support, comfortable platform
Features
Fence view
Granular access permissions
8 levels
4 levels
5 levels
Dynamic watermarking
Built-in redaction
Two-factor authentication
Advanced Q&A
Automatic reports subscription
Detailed audit trail
Auto-notifications about new activity
Custom branding
Support
Live chat
Email support
Phone support
FAQs
How much is iDeals VDR?
iDeals VDR offers a custom quote under three pricing plans: Pro, Business, and Enterprise. If you subscribe to an Enterprise plan, you will not be charged until your project goes live. You can also start a 30-day free trial to test premium iDeals features.
What is iDeals Solutions?
iDeals Solutions is a British virtual data room (VDR) provider that offers secure virtual data rooms to 175,000 companies globally. It provides role-based access permissions, dynamic watermarking, file-level permissions, remote shred, and other advanced security controls. 
Over a million professionals close M&A deals, conduct due diligence, collaborate, and hold board meetings using iDeals VDR.
What are iDeals' top features?
iDeals top features include industry-leading 24/7 support, in-app live chat support with a 30-second response time, 8 levels of granular access permissions, and a user-friendly interface available in 15 languages. In addition, iDeals offers custom branding, auto-notifications about new data room activity, and a detailed audit trail.
What are iDeals VDR top clients?
Some of the top companies that choose iDeals, are KPMG, BNP Paribas, and Ernst & Young.  iDeals VDR top clients include representatives of financial services, real estate firms, renewables and energy companies, healthcare, technology, telecom, and production industries. iDeals serves various important purposes, including M&A, due diligence, board communications, real estate management, bankruptcy, and restructuring.
Check price
Global rankings
4.7
4.8
4.8