5

Overall rating:
4.5

/5

Good
Donnelley Venue
Free trial: 14 days
Year founded: 2016 Located: Chicago, USA Website: dfinsolutions.com
4.1
Ease of use
Average 4.1
4.2
Customer Support
Average 3.9
4.1
Ease of setup
Average 4.2
Global rankings
1
5
1
Donnelley Venue virtual data room software:
the complete guide
Venue is a virtual data room software owned by Donnelley financial solution, a leading financial software service provider. Venue provides data room services across different industries, ranging from financial, biosciences, mining to tech industries.
The use of the virtual data room cuts across due diligence in M&A, IPOs, restructuring, etc. While the data room is powered by AI technologies, users can enjoy a seamless process during file upload, viewing, and other activities in due diligence.
Software screenshots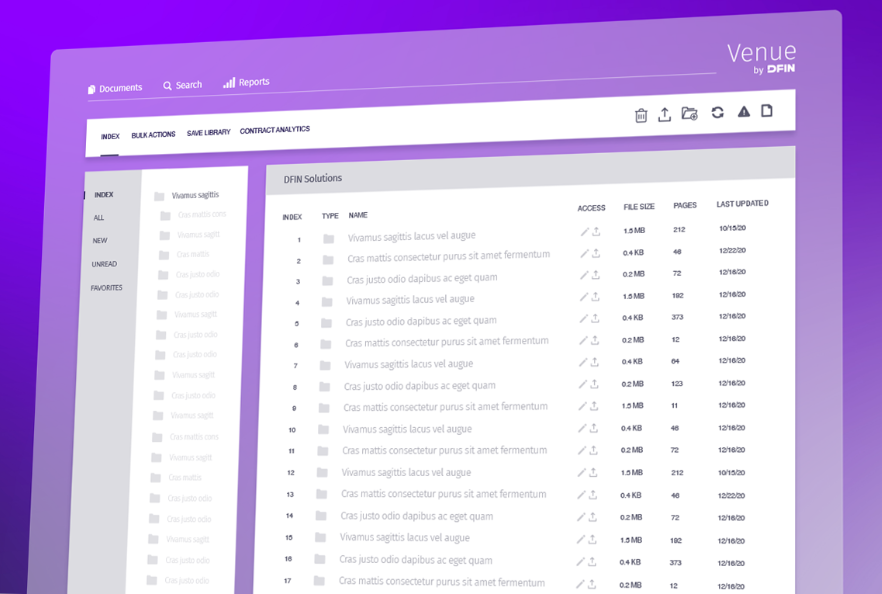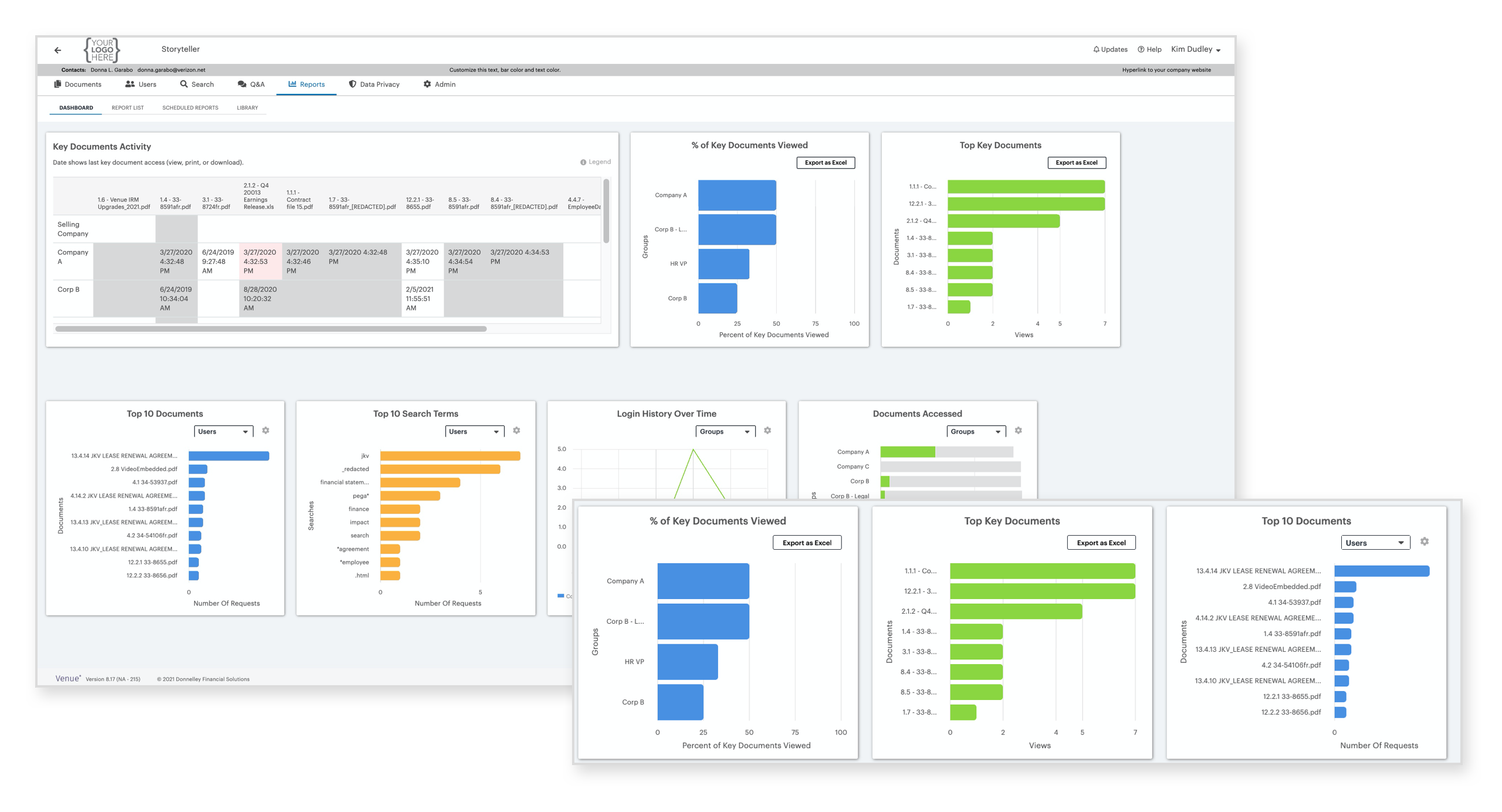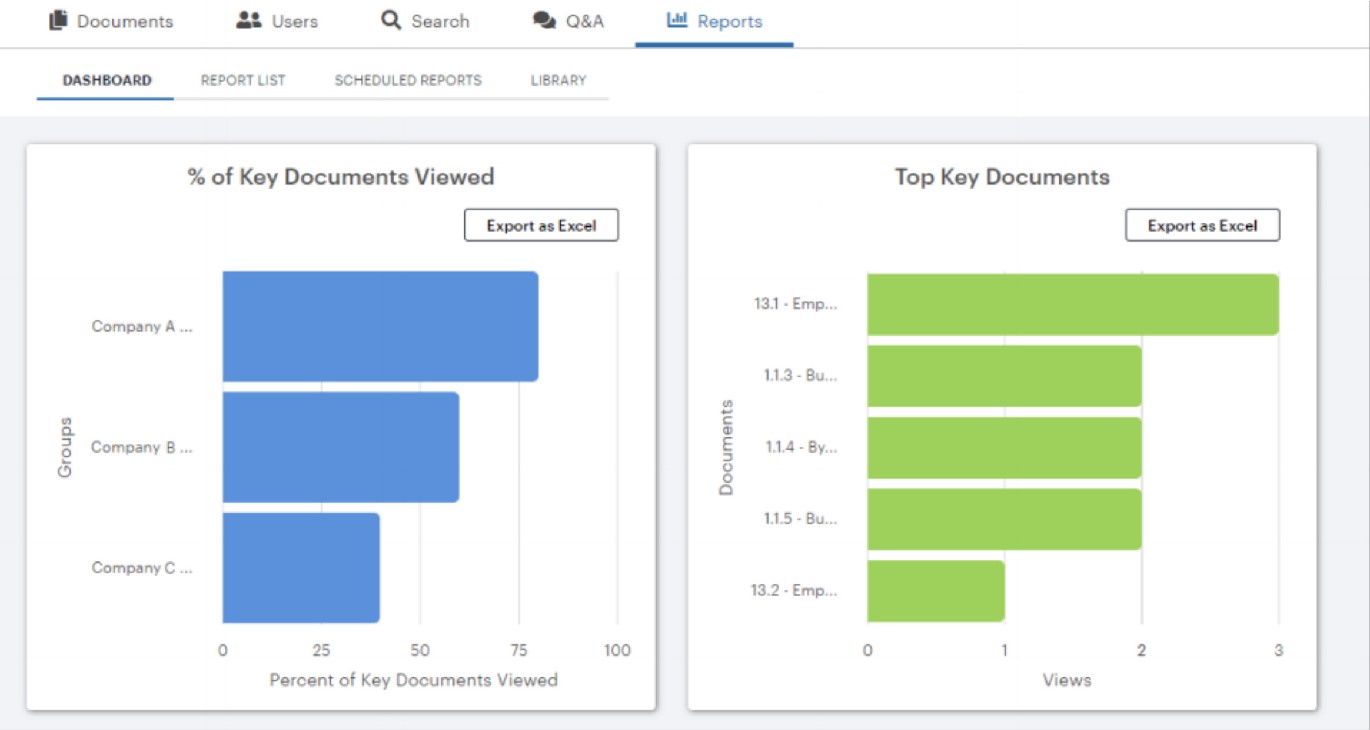 Venue data room features
Security
ISO/IEC 27001:2013 Certified
SOC 1 Certified
GDPR Compliant
Multiple Datacenter Locations
Data Backup
256-Bit SSL/TLS Encryption
User and data management
Granular Document Permissions
Remote Shredding of Documents
Secure Fence View
Permission Groups
Filtering by Parameters
Drag & Drop Upload
Customization
Custom Domain
Branded User Interface
Single Sign-On Integration
Managed Encryption Keys
Pros and cons
Speaking of Venue's most prominent benefits, users often report deal analysis, support, and AI-powered search.
Deal analysis functionality offers accurate analysis on processes carried out within the VDR. This helps you to gain some understanding of the interests of parties who use the data room and you can make quality decisions based on insights obtained from the report. It allows you a bird's eye view of your pipeline across different deals, hence you can manage and determine actions to take based on reports and observations.
AI-powered contract analysis and document redaction
User-friendly interface
Helpful multilingual customer support
Hardware security modules for custom key management
Helpful Q&A section with approval workflows
Custom NDAs and other contracts
No document password protection
No multi-format file support
No possibility of uploading an entire index
Cumbersome manual user invitations
Pricing
Venue's pricing is based on a file-level page count that is used to determine the cost of using the virtual data room service. You may pre-determine pricing based on quotes obtained from Venue.
Check price
Security features
Venue data room service is secured using a 256-bit encryption technology and allows various levels of permissions for different users. Document shared with users via the virtual data room is automatically watermarked, for originality and file protection. It requires several layers of authentication to access, hence protecting your data from unauthorized views and unwanted access. It further ensures that the files are virus-free, and scanned for maximum protection.
Besides that, Venue has a range of advanced document management features:
Auto-redaction. After sharing a file with someone within the data room, this data room provider allows you to destroy it when you no longer want them having access to it. Password protection may also be enabled on the files within the virtual data room provider.
User management and control. The Venue data room enables you to control how an end-user interacts with your data, even if they already downloaded it on their desktop. You can restrict the view, editing on different documents and folders, and you can rest assured that your data is secure and only within authorized access.
Top 3 data rooms software
1
Overall rating:
4.9

/5

Excellent
Check price
2

Overall rating:
4.7

/5

Good
View Profile
3

Overall rating:
4.6

/5

Good
View Profile
Comparison of the top 3 data rooms
General business
Top use cases
M&A, Finance, Life sciences and healthcare, Energy, Real estate, Tech
M&A, Finance, Legal
M&A, IPO, Capital raising, Healthcare, Real estate
What users appreciate
Excellent support, easy-to-use, encryption and security features
Encryption, data analysis tool, support
Reliable support, comfortable platform
Features
Fence view
Granular access permissions
8 levels
4 levels
5 levels
Dynamic watermarking
Built-in redaction
Two-factor authentication
Advanced Q&A
Automatic reports subscription
Detailed audit trail
Auto-notifications about new activity
Custom branding
Support
Live chat
Email support
Phone support
FAQs
What is Donnelley Financial Solutions Venue?
Venue is a virtual data room (VDR) developed by Donnellеy Financial Solutions. Venue offers time-saving tools for M&A management, bankruptcy and restructuring, IPO, fundraising, due diligence, and other business activities.
It helps businesses share high-risk information securely, collaborate on business materials in one place, and go through the entire M&A cycle.
What is Venue DFin used for?
Venue DFin is used for M&A management, due diligence, IPO, bankruptcy and restructuring, fundraising, and other business deals. Being a protected centralized hub, Venue DFin simplifies the secure exchange of sensitive information and collaboration on deal-related materials.
Is Venue DFin secure?
Venue DFin is a secure data room trusted globally by Fortune 1000 companies. It ensures top-notch security features such as 256-bit encryption, multi-factor authentication, automatic watermarking, and compliance with SOC2 requirements.
Who are Venue's main competitors?
Venue's main competitors are iDeals data room, Ansarada, Sharevault, Onehub, SecureDocs, and Digify. You can compare features and costs and go through our overviews to find the best option for your business objectives.

Global rankings
1
5
1