17

Overall rating:
3.3

/5

Average
Digify
Free trial: 7 days
Year founded: 2011 Located: Sydney, NSW Website: digify.com
4.1
Ease of use
Average 4.1
3.8
Customer Support
Average 3.9
3.9
Ease of setup
Average 4.2
Global rankings
4.7
4.9
4.9
Digify virtual data room software:
the complete guide
Digify is a virtual data room provider that offers a secure solution for online data storing and sharing.
The Digify company was founded in 2011. It's headquartered in San Francisco, California, USA. However, it also has an office in Singapore. 
Digify has already served to more than 450,000 users in 138 counties worldwide. Among the top use cases of Digify are M&A, legal, and real estate due diligence, internal document distribution, digital rights management, startup fundraising, and investment banking. Some of the most prominent clients of Digify include Aurora Insight, Nuvo, ThoughtRiver, and Autify.
Besides a virtual data room, Digify also offers products for secure email attachment, digital rights management, and developer API. 
Software screenshots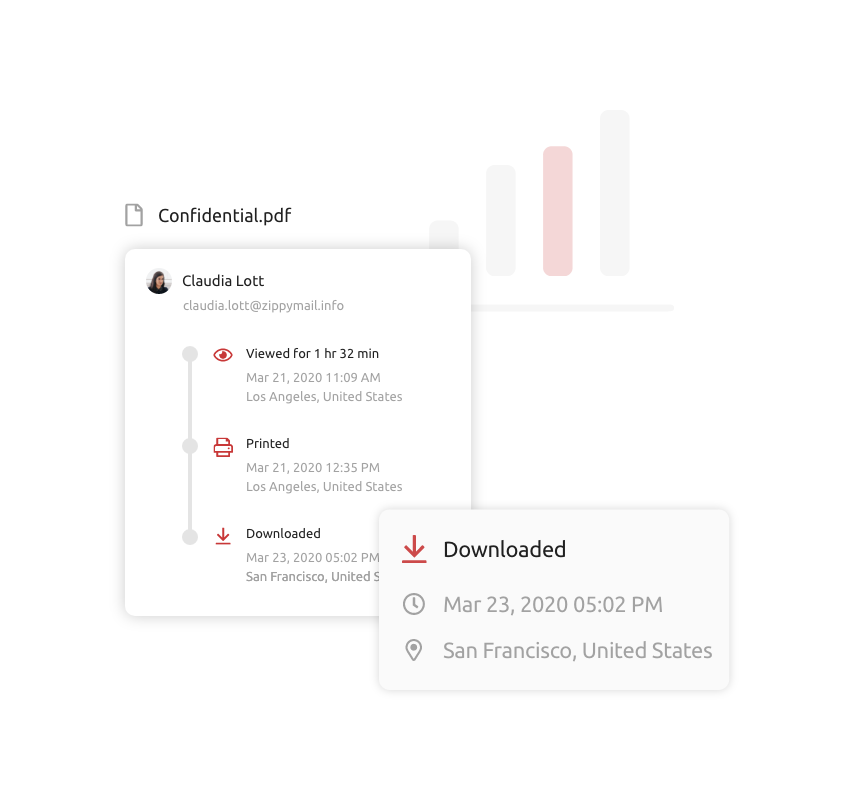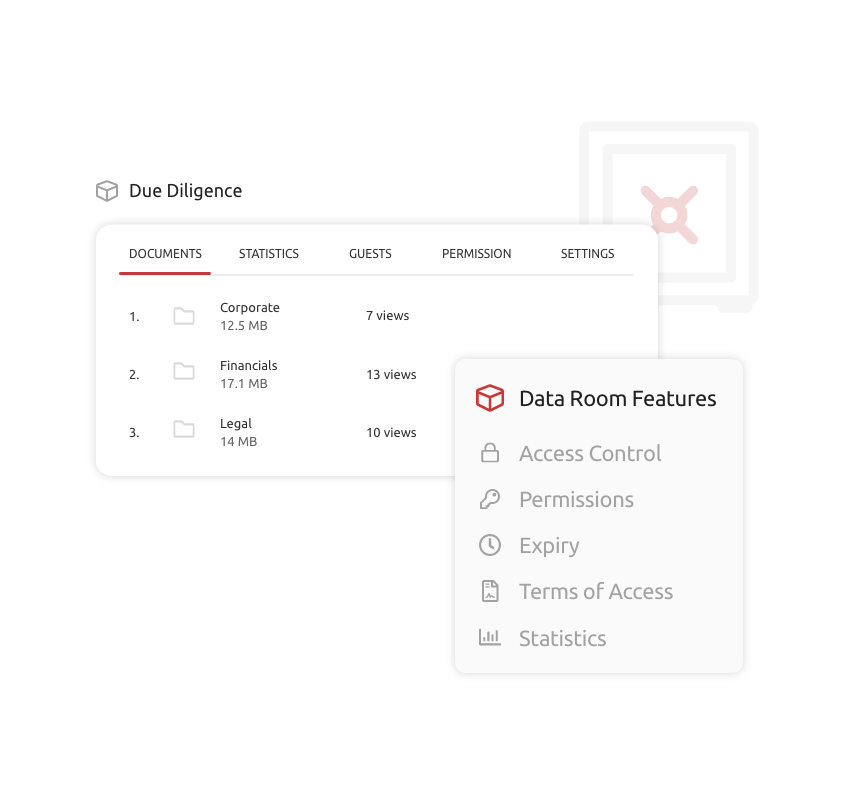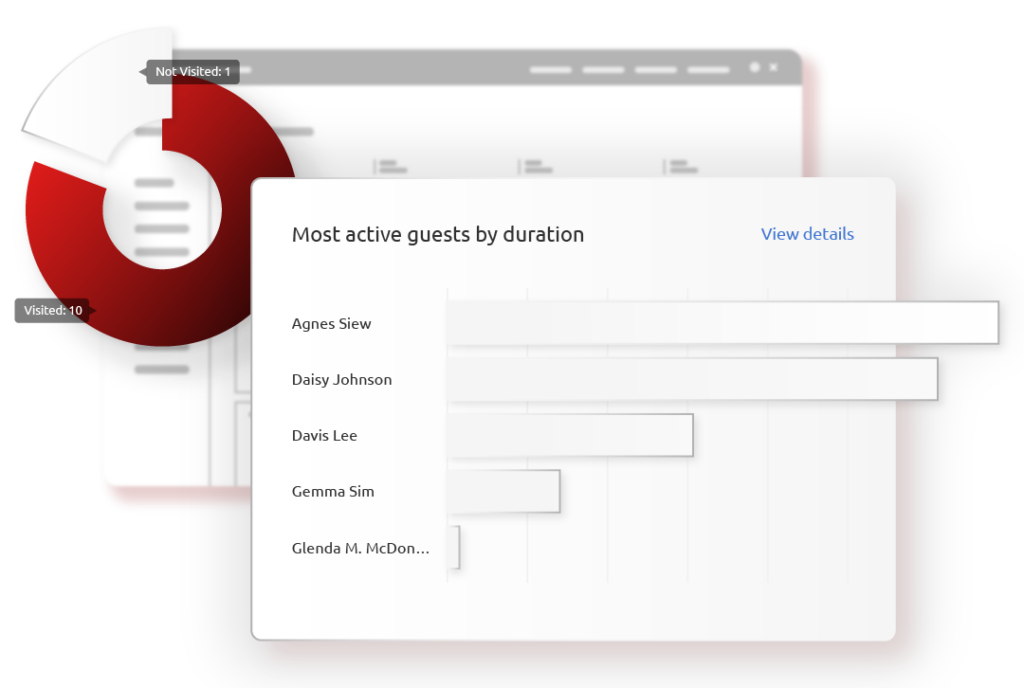 Digify data room features
Security
Watermarking
Screen shield
Print, download, and copy restriction
Automatic file expiration
ISO 27001 certification and GDPR and HIPAA compliance
Amazon Web Services data centers
User and data management
Six levels of granular access permissions
Three user roles
View-only feature
Easy cloud import
File format previews
File replacement and versioning
Customization
Terms of access
Email notifications
White-label domain
Login screens
Pros and cons
Below are the main advantages and disadvantages of the Digify virtual data room software.
Transparent pricing: all subscription plans are described on the site
Number of integrations: Gmail, Box, Slack, Shopify, Dropbox, etc.
Granular access permissions: six levels
Variety of security features: watermarking/printing/downloading/copying restriction, screen shield, file expiration
View-only feature: allows setting only viewing access rights
SSO integration available only in Enterprise subscription
No reduction
Limited support (no live chat support)
Pricing
Digify has a subscription-based printing model and offers two main types of plans — standard and enterprise. Standard plans' cost is available on the website, while enterprise plan is a tailored offer that should be discussed with the sales team. 
Check price
Security features
When it comes to the security, Digify data room provider makes sure their customer's data stays confidential and protected. And it's appreciated by Digify's clients, based on their feedback. 
A high-end security is ensured thanks to three main approaches — security compliance and certifications, document security features, and secure user management. Let's shortly overview what's offered in each of these areas.
Digify offers the following compliance and certifications:
ISO 27001.

This security standard addresses three dimensions of information — Confidentiality, Integrity, and Availability.

GDPR.

  This is the toughest privacy and security law in the world that addresses the privacy of users in the EU.

HIPAA.

This is a federal law that tackles the privacy of sensitive patient health information.

Data Center Certifications.

Digify is hosted on Amazon Web Services, which is certified by a number of certifications such as SOC 2, FIPS, FEDRAM, and PCI DSS.
Among the features that ensure the security of files shared via Digify are the following:
Watermarking.

This feature enables personally-identifiable marks to appear on top of any document when it's viewed, downloaded, or printed.

Automatic file expiration.

It's possible to set out certain time frames during which a particular file will be available for viewing.

Print, download, and copy restriction.

Digify allows for restricting printing, downloading, and copying for certain documents and users. 

Screen shield.

This feature discourages taking screenshots of selected documents.
Another way to ensure a high-level protection of sensitive information is advanced user management. This is what Digify offers in this matter:
Granular group permissions.

There are six levels of granular access control.

User authentication.

Digify offers a secure two-factor authentication.

User roles.

All the access permissions are based on three main user roles — co-owners, contributor, and viewers.

View-only.

This feature allows for restricting users to download or print a particular file and allows only viewing.
Top 3 data rooms software
1
Overall rating:
4.9

/5

Excellent
Check price
2

Overall rating:
4.7

/5

Good
View Profile
3

Overall rating:
4.6

/5

Good
View Profile
Comparison of the top 3 data rooms
General business
Top use cases
M&A, Finance, Life sciences and healthcare, Energy, Real estate, Tech
M&A, Finance, Legal
M&A, IPO, Capital raising, Healthcare, Real estate
What users appreciate
Excellent support, easy-to-use, encryption and security features
Encryption, data analysis tool, support
Reliable support, comfortable platform
Features
Fence view
Granular access permissions
8 levels
4 levels
5 levels
Dynamic watermarking
Built-in redaction
Two-factor authentication
Advanced Q&A
Automatic reports subscription
Detailed audit trail
Auto-notifications about new activity
Custom branding
Support
Live chat
Email support
Phone support
FAQs
Does Digify have an app?
Yes, Digify has a responsive and easy to use application for iOS and Android.
How much does Digify cost?
Digify offers three standard subscription plans — Pro, Team, and Business. Their cost per months ranges from $165 to $1650. Additionally, there's an Enterprise plan — its cost is tailored and should be discussed with a sales representative. 
What is Digify used for?
Digify is mostly used for M&A, real estate, and legal due diligence, internal document distribution, digital rights management, startup fundraising, and investment banking.
Global rankings
4.7
4.9
4.9